Wi-Fi Enabled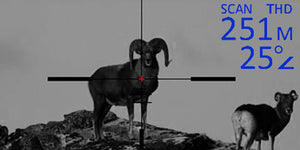 Laser Range Finders
Today's new wave of
laser rangefinder monoculars
and
rangefinder binoculars
provide unprecedented ranging accuracy to distances exceeding 4 kilometers. Boasting accuracy of ±1 meter, these range finders can be specified to include speed detection, compass, angular elevation measurements and real-time computer and Android connectivity.
For hunters, a laser range finder will deliver the accurate range information that's required by bullet shot compensators to consistently place long kill shots on target. No optical stadiametric rangefinder or mil-dot range estimator can compare.
Laser Range Finders are also particularly effective when used to support perimeter security night vision surveillance applications. The ability to accurately range targets that are up to 4 kilometers away provides the critical threat assessment data that security professionals require.
The next wave: Integrated LRF Night Vision and Thermals
As we move deeper into 2019 expect to see the addition of
integrated laser range finders to 
a wide range of night vision and thermal imaging optics, particularly in the digital night vision hunting scope category.
Thermals too are starting to become fertile ground for range finder integrations, including the newly introduced
Pulsar Accolade XQ38 LRF Thermal Imaging Binocular
. Not only does the addition of an integral Laser Rangefinder improve an already winning package sets this unit in a class by itself for a class of thermals designed for surveillance and security professional. Expect to see more examples like the Accolade LRF in the months ahead.
LASER RANGE FINDERS
Core Technology
Thermal Range
Rangefinder Range
Rangefinder Features
Thermal Sensor Refresh Rate
Magnification
Optical / Power / Environmental Features
Digital Features
Exportable?
Product Brand