Infrared Spotlights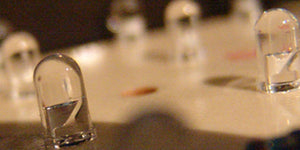 Infrared Lighting | Infrared Spotlight | Infrared Floodlight
No matter what kind of night vision device you own, adding an infrared spotlight or infrared floodlight delivers astounding results.  Plain and simple, if you want to maximize the range of your night vision device, you need long range infrared lighting that delivers massive candlepower.

And when it comes to massive, long-range lighting, nothing beats our line of infrared spotlights.  For example, adding one of our best selling 2-Million Candlepower Infrared Spotlights to your night vision kit can easily double or triple the range of your night vision scope, night vision goggles, or digital night vision device.  No wonder that the most common comment we hear from customers is, "Best Night Vision Accessory Ever!".


Turbocharged Surveillance
Looking to turbocharge the performance of your night vision surveillance cameras?  Our full line of infrared floodlights "paints" every critical sector of your perimeter surveillance area with invisible infrared lighting.  They substantially increase the performance of digital night vision devices by eliminating contrast problems that hinder the viewing of dark objects against dark backgrounds.  Our on-page filters make it easy to select the perfect night vision floodlight for your application based on your night vision surveillance camera's required lighting range and beam angle.
INFRARED LIGHTING
Core Technology
Accessory Format
Infrared Wavelength
Infrared Lighting Range
Infrared Beam Angle
Optical / Power / Environmental Features
Exportable?
Product Brand
Infrared Spotlight
$199.99 $249.99